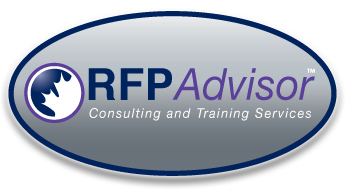 RFPAdvisor ® is RFPSOLUTIONS' RFP Procurement Consulting & Training Division. 
Canadian public sector procurement has become an increasingly complex field for public sector managers, characterized by:
A complex web of legislation, regulation, policy and rules;
A heightened sense of risk awareness and aversion;
Negative media perceptions, commissions of inquiry and critical audits; and
Growing supplier distrust, frequent bid challenges and litigation.
To support public sector managers in navigating this field, RFPSOLUTIONS INC.'s team of Senior RFPAdvisors  provides the following advisory services:
Procurement Service Standards
Procurement Policy Analysis
Procurement Planning
Procurement Review
Bidder Questions & Answers
Bid Evaluation Orientation
Proposal Pre-Screening
Contract Management Orientation
Contract Management Guidebook
Contract Negotiations Support
Contract Development Support
Procurement Training Courses
For more information on RFPAdvisor ®, please contact us.